Fused ☞ set something exciting in motion

Purpose
❧
Inspire students from all backgrounds and experiences to uncover their creative potential, explore unconventional career paths and connect with a diverse group of mentors.
Mission
❧
Our belief is that every student has a gift, our mission is to help them find it.
Goal
❧ To help young students develop creative and critical thinking skills for an exponentially changing future.
Smarter Kids for a Smarter World™
​We serve students, parents and teachers through story-based projects, STEM+Arts workshops and global creativity challenges. We operate using our own funds, charge modest fees for programs and are grateful for sponsorships and scholarships.
Founder
❧
Richard Tavener
, designs and produces educational content focused on the art of STEM through constructivist learning for young learners.
Senior Advisor
❧ Carl Iverson, former Industrial Arts teacher with 30+ years experience.
---
Background ☞ the adventure continues

Richard is an Emmy®-award winning documentary film producer and co-founder of

Imagine It™

multimedia curriculum for teachers to integrate the process of creative and critical thinking in the classroom.

​Richard assembled a network of STEM + Arts education thought leaders including Blue Man Group, Pixar Animation Studios, MIT, Smithsonian, X-PRIZE Foundation, MIT Media Lab, Lincoln Center Institute, Sally Ride Science, The National Academy of Engineering, Stanford University, FIRST Robotics; and internationally--

Macquarie University Australia,

The Singapore Science Center,

Helsinki School of Creativity Finland, Wadhwani Center For Entrepreneurship India, KAIST (Korea Advanced Institute Of Science And Technology) South Korea, Thammasat University Thailand and Technical University, Eindhoven (TU/e) The Netherlands.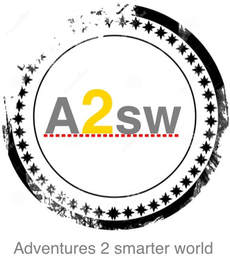 A2sw
❧ Richard is founder and co-producer of
Adventures 2 Smarter World (A2sw)
, a global platform to inspire and connect 4th-5th graders around the world.
A2sw helps young students develop critical thinking skills for an exponentially changing future. A2sw has developed a Design Thinking Process specifically for kids age 10 - 12 as a STEM pathway that guides them through middle school, high school and career readiness.
We have created a secure online education platform for kids, parents and teachers called Global Homeroom™ where kids can connect with other kids for all over the world.
We collaborate with the National Academy of Engineering--Global Grand Challenges--to introduce kids to the challenges they'll face as they become the next generation of scientists, engineers, entrepreneurs and creative thinkers. Our goal is to get every 4th & 5th grader in the world to think about the future, then engage in making the world a better place for everyone.

​
---

---
Richard is part of the Pioneering Advocates for adding the "A" (Arts) to STEM (Science, Technology, Engineering and Math.)

STEAM Manifesto. I

n partnership with Fablevision Learning, Richard has created a new curriculum series to help schools and after school programs implement STEM+Arts Labs.

The curriculum includes an integration of literacy, books and writing and encourages storytelling alongside learning science, technology and math skills.
​

---

​Richard's experience includes developing public education content for

"My Virtual Dream,"

an immersive learning experience that connects neuroscience with creativity.

---
Advisors ❧ People Who Help Fused Make a Difference
Randy Atkins,

The National Academy of Engineering

Dr. Deninne Jimmerson, STEM Curriculum Development,

Fablevision

Peter van Deventer, Diplomat,

Consulate General of The Netherlands

Kristi Markey, Chief of Staff, Office of the Monterey County Supervisor,

Sean LaFond,

Tesla Motors

Bev Thompson,

Light + Shadow Fine Art

Francine Stewart,

Monterey Peninsula Unified School District

Paul Reynolds,

Reynolds Center for Teaching, Learning & Creativity

Dr. Natasha Kovecivic, Founder,

xSensa Neuroscience Lab

Mara Wold,

The Power of Discovery Region 5 Expanded Learning

,

California Department of Education

Dr. Sarah Koebley,

STEM Ecosystem

/

STEM Funders Network / TIES
​

Ryan Peterson, Principle,

Carmel Unified School District, Tularcitos
​

Nikki Guichet,

Boys & Girls Clubs of Monterey County
Connect ☞ 831-250-5500 or complete the form below